Presidential Nile Cruises offer comfortable surroundings and good service.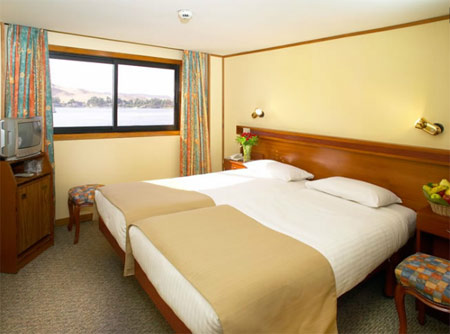 Each of its cabins is tastefully furnished and feature private facilities and air-conditioning.They are equipped with TV (including 2 video channels), mini bar, two radio programmes and are outside facing with a picture window. Excellent food is served in the boat's dining room, with a barbecue area and bar also available. Entertainment on board includes a belly dancer, a Nubian show and an Oriental party. There is a TV lounge with a choice of videos and games, a swimming pool and sundeck with loungers allow for relaxation; a gift shop offering a selection of jewellery, handicraft and souvenirs complete the boats' main amenities. Note: TV viewing may only be possible when the boat is docked.
Sample 7 night Nile Cruise itinerary
Itineraries may differ, but below is a sample 7 night itinerary, cruising from Luxor to Aswan and back. The 4 night cruise itinerary consists of the first four nights (Monday to Thursday), excluding the Tuesday visit to Luxor Museum.
MONDAY Depart from the UK for your flight to Luxor. On arrival, you will be met and transferred to your chosen Nile cruise boat for an evening check-in. Overnight in Luxor.

TUESDAY In the morning, visit the Luxor Museum. In the afternoon, visit the Temples of Karnak and Luxor on the East Bank. Overnight in Luxor.

WEDNESDAY In the morning, visit the highlights of the West Bank, including the Valley of the Kings, the Temple of Queen Hatshepsut and the Colossi of Memnon. In the afternoon, sail via Esna Lock* to Edfu. Overnight in Edfu.

THURSDAY In the morning visit the Temple of Horus in Edfu, before continuing along the Nile, mid-morning, to Kom Ombo. In the afternoon, visit the Temple of Sobek and Haroeris in Kom Ombo, and then continue on to Aswan. Overnight in Aswan.

FRIDAY After breakfast, spend the day exploring the sights of Aswan, with a visit to the High Dam and the Temple of Philae in the morning, and a relaxing trip on a felucca past the Agha Khan Mausoleum and Elephantine Island in the afternoon. Overnight in Aswan.

SATURDAY Spend the morning at leisure in Aswan, with the option of a trip to Abu Simbel. In the afternoon, sail from Aswan to Edfu. Overnight in Edfu.

SUNDAY In the morning, sail from Edfu to Esna. Visit the Temple of Khnum at Esna before crossing the lock* and continuing on to Luxor in the afternoon. Overnight in Luxor.

MONDAY After breakfast, disembark your cruise boat and transfer to Luxor airport for your return flight to the UK.

PRESIDENTIAL NILE CRUISES PRICES
Duration in Nights

7

Full Board
All Inclusive Supplement £16 per nt

Adult

2012

02 Jan - 08 Jan

£839

09 Jan - 22 Jan

£815

23 Jan - 29 Jan

£825

30 Jan - 05 Feb

£849

06 Feb - 12 Feb

£879

13 Feb - 19 Feb

£969

20 Feb - 25 Mar

£919

26 Mar - 01 Apr

£929

02 Apr - 15 Apr

£959

16 Apr - 06 May

£929

07 May - 27 May

£839

28 May - 03 Jun

£845

04 Jun - 01 Jul

£769

02 Jul - 15 Jul

£805

16 Jul - 05 Aug

£845

06 Aug - 26 Aug

£885

27 Aug - 30 Sep

£839

01 Oct - 28 Oct

£919


Prices per person in £'s including UK Airport passenger duty. Departures from Gatwick & Manchester.


RESERVATION ENQUIRIES