In the style of a traditional dahabeya, a small sailing vessel used by aristocrats and royals, Sonesta Amarit Dahabeya combines high levels of comfort and service with traditional charm. Six stylish deluxe cabins and two elegant suites with private terrace, together with dining room, lounge bar, open air Jacuzzi, and partially shaded sun deck provide a delightful Nile experience. This luxury dahabeya cruise can be booked exclusively for families and small groups, or offered as a cabin on a scheduled cruise with other guests.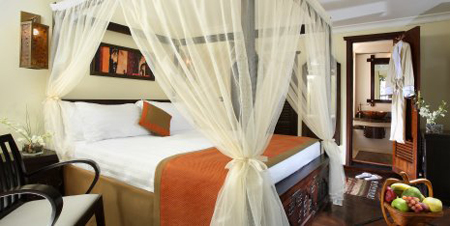 Nile Cruise (8 days/7 nights) from Luxor including Luxor & Karnak Temples, Valley of Kings, Madinat Habu, Colossi Memnon, Edfu Temple, Kom Ombo, Aswan

Day 1 Saturday
Embark Luxor. After lunch onboard visit the magnificent temple complex of Amon-Ra at Karnak and the imposing Luxor Temple. Overnight in Luxor.

Day 2 Sunday
Visit to the West Bank to explore the Valley of the Kings with its royal tombs, the Temple of Madinat Habu and Colossi of Memnon. Sail to Esna. Overnight near Esna.

Day 3 Monday
Enjoy a day at leisure onboard. Overnight moored beside a Nile island.

Day 4 Tuesday
Morning sail to Edfu with a visit to the well-preserved Temple of Edfu, dedicated to Horus the Falcon God. Overnight beside a Nile island.

Day 5 Wednesday
Set sail for Kom Ombo and moor beside an island in the Nile.

Day 6 Thursday
Visit the Temple of Kom Ombo, dedicated to the crocodile god Sobek and falcon-headed Horus, god of the morning sun. Set sail for Aswan. Overnight in Aswan.

Day 7 Friday
Visit the High Dam and Old Dam, followed by the Philae Temple, dedicated to the goddess Isis. Overnight in Aswan.

Day 8 Saturday
Disembark Aswan after breakfast.

RESERVATION ENQUIRIES